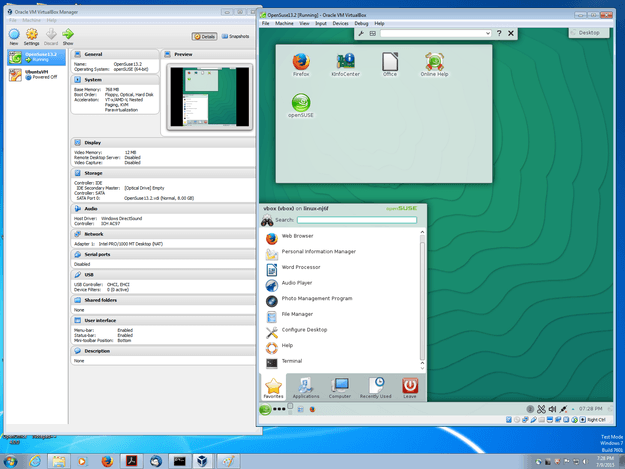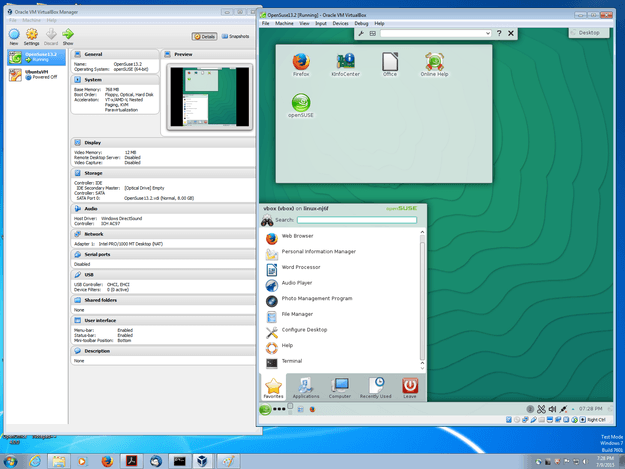 27
Sep
VirtualBox 5.0
"VirtualBox is a powerful x86 and AMD64/Intel64 virtualization product for enterprise as well as home use. Not only is VirtualBox an extremely feature-rich, high-performance product for enterprise customers, it is also the only professional solution that is freely available as Open Source Software under the terms of the GNU General Public License (GPL) version 2. See "About VirtualBox" for an introduction."
Straight from VirtualBox website.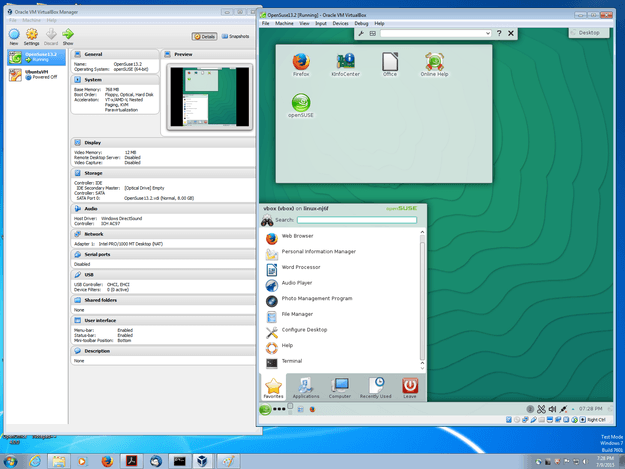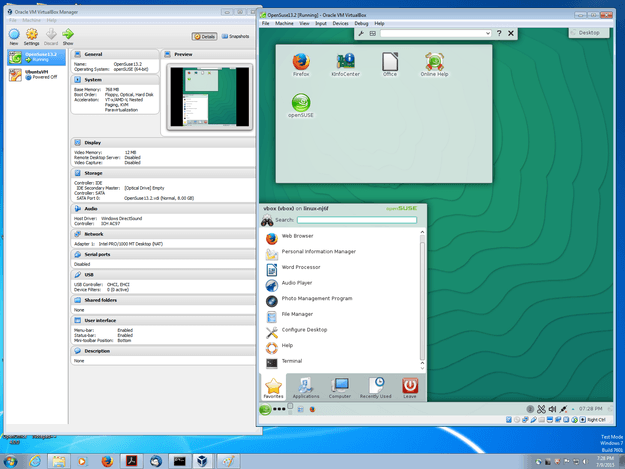 As some may know, part of my duties is working with a custom distro and performing many "low level" changes to the operating system to make things work… let's say, not as they are supposed to.
VirtualBox has been my virtualization platform ever since Linux as my primary Operating System. I say primary because, for testing purposes, Windows is still a big part of my life, Visual Studio, and so on.
VirtualBox continues to step up its game, at times a step behind VMWare, but hey, they have $$ some fair advantage.
As I love OpenSuse here you have VirtualBox in Windows running OpenSuse.
But some let's list the new awesome features:
Paravirtualization Support for Windows and Linux Guests: Significantly improves guest OS performance by leveraging built-in virtualization support on operating systems such as Oracle Linux 7 and Microsoft Windows 7 and newer.
Improved CPU Utilization: Exposes a broader set of CPU instructions to the guest OS, enabling applications to make use of the latest hardware instruction sets for maximum performance.
Support of USB 3.0 Devices: Guest operating systems can directly recognize USB 3.0 devices and operate at full 3.0 speeds. The guest OS can be configured to support USB 1.1, 2.0, and 3.0.
Bi-Directional Drag and Drop Support for Windows: On all host platforms, Windows, Linux, and Oracle Solaris guests now support "drag and drop" of content between the host and the guest. The drag and drop feature transparently allows the copying or opening of files, directories, and more.
Disk Image Encryption: Data can be encrypted on virtual hard disk images transparently during runtime, using the industry-standard AES algorithm with up to 256-bit data encryption keys (DEK). This helps ensure data is secure and encrypted at all times, whether the VM is sitting unused on a developer's machine or server, or actively in use.
As you know, in Takelan, we use VirtualBox, a LOT, and we use it even for critical mission applications as PfSense running some of our perimeter Firewalls. "www.pfsense.org/" One thing we can't complain about is Performance.
VirtualBox in this new delivery has made a HUGE step forward in virtualizing technology and just for the fun of it. Here I am, typing this post straight from my Windows VM in OpenSuse.
Why don't I do it the other way around? and Virtualize OpenSuse?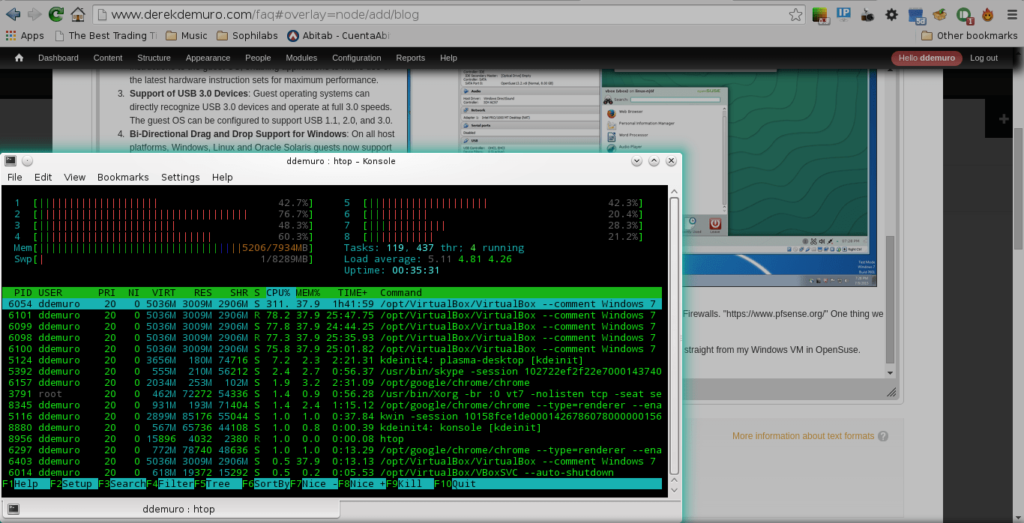 Because of HTOP! nah, seriously, because Linux just makes my life easier.
And if you don't get to see the coolness in there.. then, you're not a real SysAdmin lol.
And with that… all I can say is, Happy Sysadmin's day everyone.